With scrolling on the web, there's a feature called Scroll Snap which allows authors to articulate mandatory or optional resting places for scroll. A common initial use case is for carousel-like scrolling.
Each of those rows of items uses scroll snapping but tells each row of items to snap to a different spot in the scrollable area. The top one snaps items to the beginning with scroll-snap-align: start. The middle example snaps items to the center of the scroll area with scroll-snap-align: center. The last example snaps items to the end of the scroll area with scroll-snap-align: end.
The achieve a scroll-snapping scroll experience, there are 2 essential parts to establish:
A scrollable container with overflow that adds `scroll-snap-type` which says the scrollable viewport can be snapped to, which axis to do the snapping, and whether or not it's a requirement to snap (mandatory) or optional (proximity).
One or many children of a scroll-snap container that specifies where to snap with `scroll-snap-align` which says, on an item-by-item basis, where it should snap within that container
You're not limited to a single axis either. A horizontal scrolling snap experience may be the first place your design mind goes to with the feature, but consider this example where snapping can occur on both the x and y-axis.
The scroll container specifies it can be scrolled horizontally and vertically, that it's a snap area, and each child should snap to the center.
This demo is also a good time to introduce the scroll-snap devtools in Chromium browsers. Open the codepen in a new tab and inspect the grid. Look for the scroll-snap badge in the elements panel and click it to enable the debugging overlay: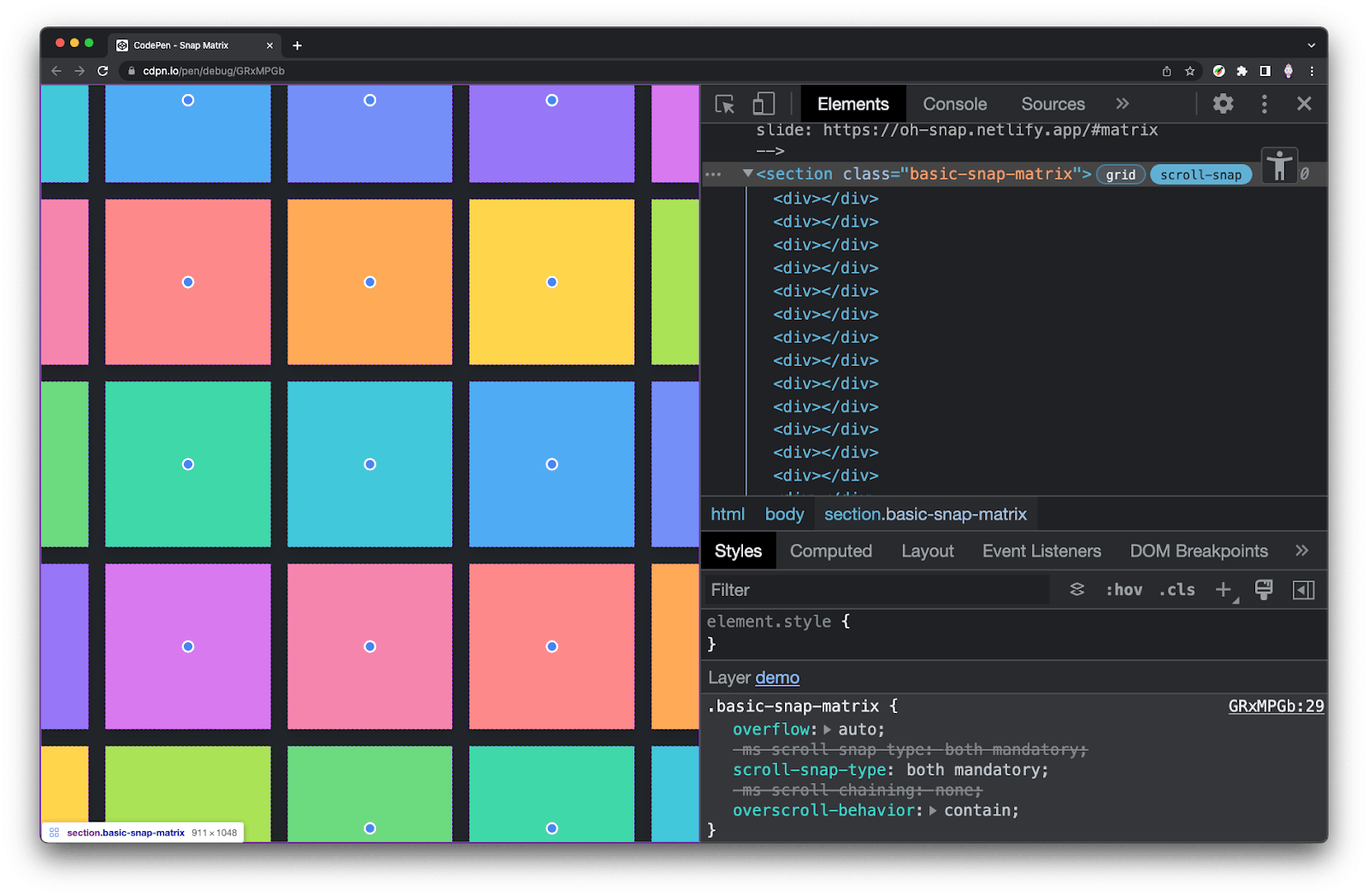 The scroll-snap overlay puts a purple border around the scroll area and a dot on each item that has scroll-snap-align on it. These items all want to snap to the center, so they all have a dot in the center. It also will show overflowing items which is really handy. Here I've constrained the height and width of the scroll area so we can see the overflow and snap alignment.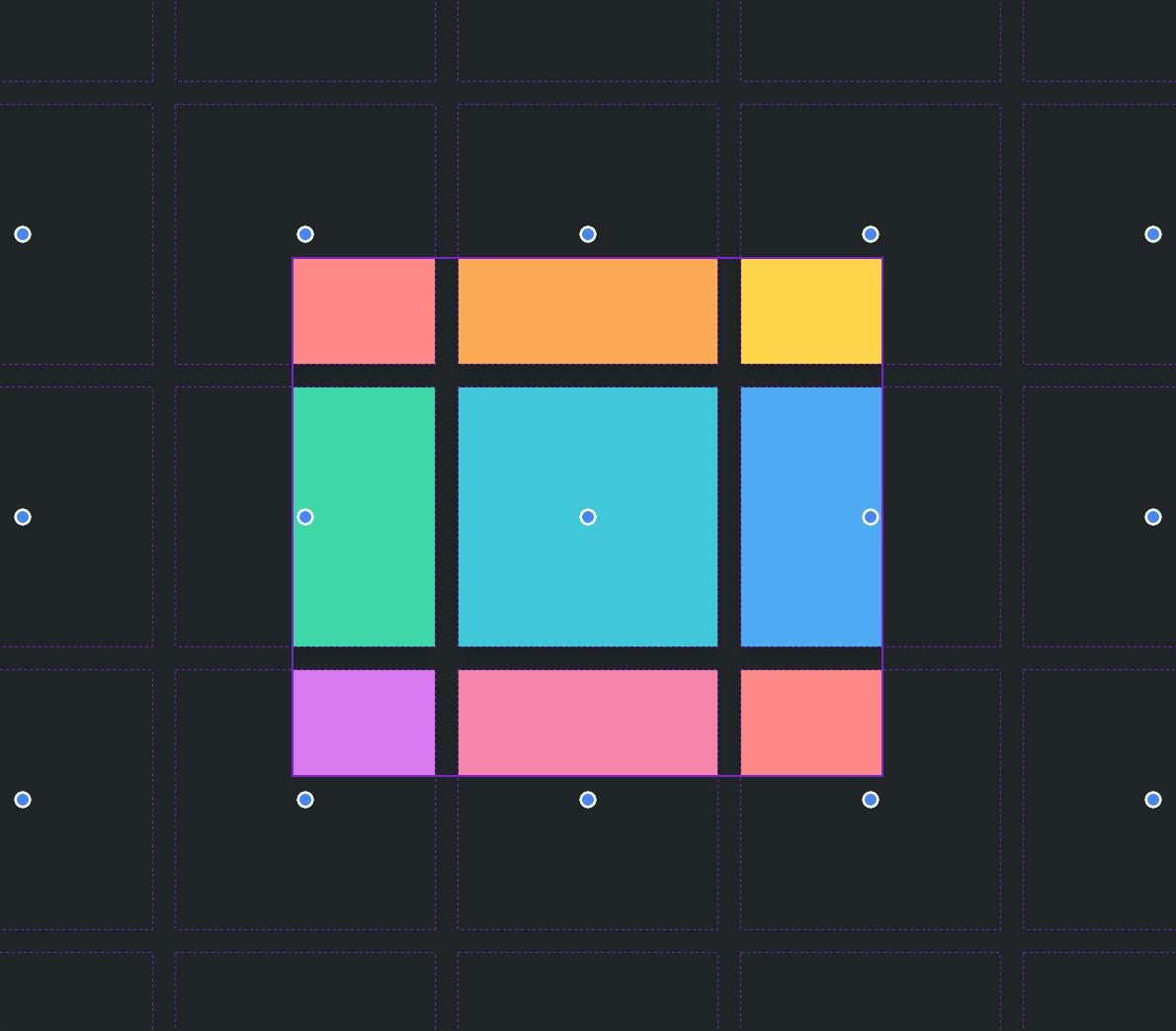 For a practical application of scroll snapping, I made a media scrolling experience on GUI Challenges that emulates the browsing experience for many media networks. It also features great keyboard navigation and use of `scroll-padding` to create an edge-to-edge scroll experience that rests in perfect alignment with its section header.
Check out the media scroller demo.
So far we've put snap alignment on every direct child of the scroll container like .scroll-container > *, but things get interesting when there's only one or a couple of snap targets.
In the above demo, the edge most elements are not snap targets, and when that is combined with mandatory snapping specified on the scroll container, it gives a nice bouncy effect to the edges of scrolling (often called an overscroll effect). 
You can also have scroll areas inside of scroll areas, each with its own snapping:
In the following demo, only 1 element is a snap target (the most recent/last message) which keeps the scroll container at the bottom, even as new messages are added:
There's a lot more you can do with scroll snap on the web. I've created a collection on Codepen to make them easy to discover and take code from. That's the grab-n-go aspect of this article! 
Hopefully, this gave you an overview of the design opportunities with scroll snap. There's a lot of potential to enhance a scroll experience with healthy scrolling resting places.